 Study the book of James! In the second chapter, James makes it clear that people who claim to be Christians but who fail to help poverty stricken fellow believers are in fact NOT saved.

Christians in North America give, on average, 2.5 percent of their income to the church. Out of that 2.5 percent, churches will give 2 percent of their budgeted monies to needs overseas. In other words, for every one hundred dollars a North American Christian earns, he will give five cents through the church to a world with urgent spiritual and physical needs.

"Abraham had faith in God, and God was pleased with him." That's how Abraham became God's friend. James 2:23

The newsletter features:

- Upcoming events

- Projects

- New photos

- Our Journal

- And much more!!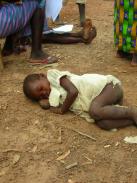 © 2017 HESENTME.ORG, INC.

Jim has worked in the entertainment business for over 30 years including 12 years with Walt Disney Imagineering and received platinum records from the bands "No Doubt" and "Offspring".

"I ran across the Bible verse, 'share each other's troubles and problems, and in this way obey the law of Christ', Galatians 6:2 while reading Rick Warren's book titled "The Purpose Driven Life". That one verse changed my life forever."

I know that the Lord secures justice for the poor

and upholds the cause of the needy. Psalm 140:12